Definition
Kimura disease is a chronic, benign, inflammatory disease of unknown cause. It causes swelling under the skin and swollen lymph nodes on the head or neck. A type of white blood cells (eosinophil leukocytes) and immunoglobulin IgE is most often elevated in blood tests. The disease was first described in China in 1936 (by Kimura). Angio-lymphoid hyperplasia with eosinophilia (ALHE) is thought to be the same condition. Kimura disease can sometimes be misinterpreted as a rheumatic disease such as Sjögren's syndrome or IgG4 related disease, but also lymph node cancer and other diseases may be important to rule out.
Occurrence
Kimura disease is rare outside of Asia or among non-Asians.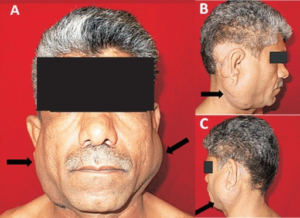 Young men are attacked 3-6 times more often than women. The median age of onset is 28 years. Kimura disease (KFS) is defined as a rare disease (reference: Fouda MA, 2010).
Symptoms
Skin, lymph nodes and salivary glands are attacked. Slow-growing, painless thickenings under the skin are typical. These can itch. Renal inflammation with loss of protein (nephrotic syndrome) has also been reported.
Examinations
Medical history reveals that the symptoms (see above) arose for no particular reason
At clinical examination enlarged, non-painful lymph nodes and often enlarged salivary glands are detected. One or more nodules under the skin on the head or neck, especially near the ears, the major salivary glands (parotid or submandibularis) areas. Less often on eyelids. The average diameter is 3 cm. Changes to the arms and legs have also been reported.
Laboratory tests. In the blood, the number of white blood cells is often elevated, which is due to the eosinophil cells. The differential count in a blood test usually shows eosinophilia (98%). Also immunoglobulin IgE is often elevated. Creatinine may be elevated if the kidneys are attacked Subcutaneous swelling. A urine sample is taken to rule out protein excretion. The laboratory tests should be taken with a view to uncovering similar conditions (see below), such as ANA test and IgG4 subclass.
Imaging CT or MR examinations. CT or MRI examinations show the extent of the disease.
Tissue sample (biopsy). A tissue sample should be taken to confirm the diagnosis. Eosinophilic infiltrate and eosinophilic abscesses are typical. Fibrosis may be present peripheral to the infiltrates (reference: (Chen H, 2004).
Similar diseases / differential diagnoses
Angiolymphoid Hyperplasia with eosinophilia (probably the same condition, reference: Ramaprasad AD 1993). It is important to rule out similar conditions. Some of these are listed below:
The closest differential diagnosis is angiolymphoid hyperplasia with eosinophilia (ALHE). Both of these conditions are characterized histologically by lymphoid infiltration, vascular proliferation and eosinophilia in the tissue.
Angiolymphoid Hyperplasia with Eosinophilia (ALHE). In ALHE, however, erythematous papules or nodules are seen, particularly periauricular and on the head. Unlike Kimura's disease, ALHE most commonly affects middle-aged Caucasian women (Chitrapu P, 2014).
DRESS syndrome as a side effect of medication
Lymph node metastases
Parasite infection
Pyogenic Granuloma (Lobular Capillary Hemangioma)
Reactive lymphadenopathy (swollen lymph nodes due to infection or rheumatic inflammation)
Salivary Gland Tumor
Treatment
Observation. Steroid injections as a local treatment can reduce the infiltrates. Cetrizine reduces itching. Cortisone, such as prednisolone, may be appropriate. DMARDs such as ciclosporin, azathioprine (Imurel), leflunomide, tacrolimus, mycophenolate mofetil or renin-angiotensin (ACE) inhibitors have also been used, without studies being available (reference: Su S, 2019). Surgery can be done, but recurrence is common.
Literature
---
This page has had 2 visits today