LGL Syndrome / LGL Leukemia (Large Granular Lymphocyte (LGL) Syndrome, T-Cell Granular Lymphocytic Leukemia, Large Granular Lymphocyte (LGL) Leukemia).
Definition
LGL syndrome is a rare blood disease that affects special forms of white blood cells (T cells and natural killer/NK cells). The condition can progress very differently, depending on which subgroup exists. Chronic NK cell lymphocytosis is a mild form, while NK cell LGL Leukemia is more aggressive (reference: Cheon HJ, 2020). The disease was first described in 1985. Mild LGL syndrome is most common, and often occurs simultaneously with inflammatory rheumatic disease, most often arthritis (rheumatoid arthritis).
Disease Cause
Unknown cause.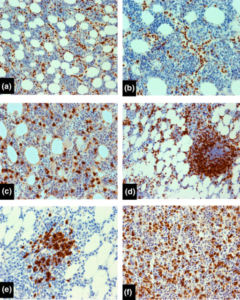 Many with a mild LGL syndrome have at the same time Rheumatoid arthritis (The disease picture overlaps in part with Felty's syndrome) (reference: Wlodarski MW, 2006), SLE or Sjögren's syndrome (Reference: Friedman J, 2006).
Occurrence
Both men and women can be attacked, most commonly between the ages of 12 and 87, with a median age of 60.
Symptoms investigations
Disease history. About one in three have no symptoms when the condition is discovered by chance. The investigation may be due to a striking number of infections (15-39%), laxity or mouth ulcers (reference: Lamy T, 2017).
Clinical examination can demonstrate splenomegaly (large spleen) (20-50%), anemia / low hemoglobin in the blood in 10-30% (reference: Lamy T, 2017), neutropenia (few neutrophilic white blood cells), less often enlarged lymph nodes.
Blood tests. Lymphocytosis (2-20 x 109/ L), neutropenia, anemia, hypergammaglobulinemia, Antibodies, Circulating immune complexes. By flow cytometry, the refinement of T cells and NK cells is assessed.
Bone marrow. Often attacked, but to varying degrees.
Diagnosis
Measurement of neutrophil leukocytes (typical discovery: 0,4-2,9 x 109/L). Bone marrow aspirate or biopsy with immunohistochemistry. LGL cells can be recognized by the fact that they are larger than lymphocytes in the blood and with azure-blue granules. Flow cytometry cytometry is also useful.
Associated conditions
Similar conditions / differential diagnoses
Viral infections and Autoimmune diseases (transient or chronically increased polyclonal T cell or NK cell lymphocytosis)
Elderly (oligoclonal and small monoclonal CD3+ LGL cells)
After transplants (oligoclonal and small monoclonal CD3+ LGL cells)
Genetically: Clonal changes in T-cell receptors exist. In the gene for the T-cell β chain, more frequent changes than the chain are present.
Treatment
Not all cases require treatment. If severe or symptomatic neutropenia, anemia or rheumatoid arthritis (RA) a low dose methotrexate or Cyclophosphamide (Sendoxan) as initial treatment are options. Alemtuzumab has been used in refractory cases.
Treatment response can be evaluated after 4 months: Normalization of cell counts (Hemoglobin over 12 g / 100mL, platelets over 150 x 109/ L, neutrophilic leukocytes over 1,5, lymphocytes under 4 and circulating LGL normalized). By PCR examination T-cell clones can be measured (should be gone by complete remission). Steroids (Prednisolone) have a disappointing effect outside of temporary symptom improvement. (Reference: Lamy T, 2011)
Medical prognosis
No curative treatment, but generally a good prognosis. Five-year survival is estimated at 89% and ten-year survival is approx. 70%. Disease-related death is most often due to severe infection. The aggressive NK-LGL leukemia has a much lower survival rate (reference: Lamy T, 2017).
Literature
---
This page has had 1 visits today