Definition
Among people with severe lung disease who are referred for lung transplantation, there is autoimmune rheumatic disease in approx. one out of three. Most of these have arthritis (rheumatoid arthritis, Systemic sclerosis, Antisynthetase syndrome or interstitial pneumonia with autoimmune features (IPAF). In investigation, it is most often demonstrated antinuclear antibody (ANA) in the blood and non-specific interstitial pneumonia (NSIP) (reference: Atienza-Matheo B, 2020).
The role of the rheumatologist
Lung conditions leading to lung transplantation are on the rise Interstitial Lung Disease (ILD) og Pulmonary hypertension, but also Bronchiolitis obliterans (BO).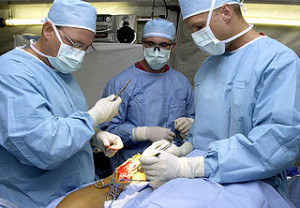 Patients with Systemic sclerosis and Antisynthetase syndrome. The latter mentioned is a subset of myositis. Despite drug treatment, lung disease can progress to lung failure and death. Lung transplantation can be life-saving treatment for some (reference 1 Sem M, 2011). However, applications for transplant are often rejected for this patient group. The causes can be complicating multi-organ manifestations (multiple organs disease), but also unnecessary uncertainty about disease progression and post-transplant management in these diseases.
Rheumatologists know the patients' disease course well and can provide essential information. It is therefore important that rheumatologists have knowledge of lung transplantation as a treatment option systemic connective tissue disease og Rheumatoid arthritis (arthritis) when disease-associated lung manifestations progress.
If necessary, rheumatologists should start a multidisciplinary collaboration with a pulmonologist, transplant surgeon, gastroenterologist and others. Rheumatologists should help to assess the function of the esophagus (esophageal dysmotility and reflux) before assessment for transplantation. After transplantation, the rheumatologist must be able to monitor the activity of the rheumatic disease in an optimal way.
Lung transplantation in rheumatic diseases
The number of lung transplants has increased in recent years. Most people get both lungs transplanted at the same time, which results in the longest survival. Among the most frequent causes of transplantation, according to the ISHLT registry (International Society for Heart and Lung Transplantation, USA)5, is the most common reason for transplantation COPD / emphysema, Followed by pulmonary fibrosis and cystic fibrosis. Sarcoidosis number seven on the list and Systemic connective tissue diseases: number ten.
When comparing registry data (OPTN and LUMC) for survival after transplantation for Systemic connective tissue diseases: (N = 284) with other groups (COPD n = 4190, Idiopathic pulmonary fibrosis n=4190), no significant difference in survival is found. However, there is a highly selected group of patients (with the greatest chance of survival) among those with systemic connective tissue diseases who are transplanted.
Reasons for refusal for transplantation
Oesophagus manifestations (the Gullet) are common, especially in Systemic sclerosis is problematic. Reduced function (dysmotility) and gastro-oesophageal reflux are clearly associated with lung damage in the form of Bronchiolitis obliterans (BO) which in turn is a common cause of rejection of the lung transplant. In systemic sclerosis, the esophagus is affected in the lower 2/3 so that peristalsis and the sphincter against the stomach function poorly. This is demonstrated by X-ray with contrast and by manometry and PH measurements.
Bronchiolitis obliterans (BO) as a complication often occurs 6-24 months after transplantation. After 5 years from the transplant, 50-60% have signs of BO and 30% of the transplant-related deaths are caused by BO. BO is suspected if lung function tests show falling FEV1 and the patient notices increasing heavy breathing (dyspnoea) on exertion. Surgical reflux treatment with fundoplication and gastric bypass (RYGB) can reduce the risk and enable transplantation in some cases.
Indications for lung transplantation, guidelines ISHLT6
Progressive interstitial lung disease: Lung function measured by FVC and DLCO falls despite immunosuppressive treatment with, for example, cyclophosphamide (Sendoxan) or mycophenolate (CellCept)
Seriously reduced lung function: DLCO less than 40% of expected, FVC deterioration of at least 10% over 6 months, oxygen demand (often defined by pO2 below 55 mm. Hg at rest or pO2 below 60 mmHg with concomitant pulmonary hypertension).
Contraindications. Systemic sclerosis with a medical history of less than 5 years (from non-Raynaud's symptoms), no cancer disease last 2 years, None HIV, Hepatitis B infection or other serious organ complication. No non-compliance for drugs, abuse or lack of social follow-up.
Relative contraindications: Age over 65, critical illness, significantly reduced general condition, obesity, severe osteoporosis, ventilator treatment or infection with multi-resistant bacteria.
Conclusion
Systemic connective tissue disease and rheumatoid arthritis can, despite drug treatment, lead to severe lung failure. Lung transplantation is then life-saving for some, but many applications for treatment are refused. Rheumatologists can play an active role in multidisciplinary transplant investigations and in follow-up after transplantation.
References
1. Sem M. Long-term outcome of lung transplantation in a patient with the anti-synthetase syndrome. Scan J Rheum 2011; 40; 327-328.
2. Takagishi T. Survival and extrapulmonary course of connective tissue diseases after lung transplantation. J Clin Rheum 2012; 18; 283-289.
3. Gunnarsson R. Prevalence and severity of lung disease in mixed connective tissue disease: a nationwide, cross-sectional study. Ann Rheum is 2012; 71; 1966-1972.
4. Palm Ø. Clinical pulmonary involvement in primary Sjogren's syndrome: prevalence, quality of life and mortality - a retrospective study based on registry data. Rheumatology 2013; 52; 173-179.
5. Christie JD. The Registry of the International Society for Heart and Lung Transplantation: 29th Adult lung and heart transplant report-2012. J Heart Lung Transplant 2012; 31; 1073-1086.
6. Orens JB. Internationale richtlijnen voor de selectie van lungtransplantatiekandidaten: 2006 update-een consensusverslag van de Pulmonale Wetenschappelijke Raad van de Internationale Vereniging voor Hart- en Lungtransplantatie. J Heart Lung Transplant 2006; 745-755.
---
This page has had 1 visits today