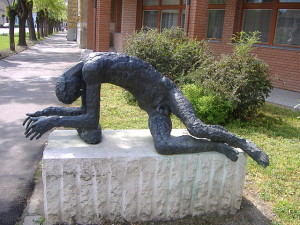 ME: "Statue of the Tired Man" 

By User: Burrows - Own work. Licensed under Public Domain via Wikimedia Commons - http://commons.wikimedia.org/wiki/File:Statue_of_the_Tired_Man.JPG#/media/File:Statue_of_the_Tired_Man.JPG
CFS / ME, Chronic fatigue syndrome, Chronic fatigue syndrome ICD-10
Similar states: SFS / ME, Myalgic Encephalopathy (ME). Idiopathic Chronic Fatigue Syndrome (CFS), neurostasis.
Definition
ME is a disabling one exhaustion combined with a variety of other symptoms and duration for at least 4-6 months when other illness is excluded.
Disease Cause
Discussed and not proven. One assumes that several factors are important:
Vulnerability (Genetic, Environment)
Triggers (infection, injury, mental strain)
Maintenance factors
Symptoms
Often rapid onset, in some cases after upper respiratory infection
Duration of at least 46 months
Intense bothers at least half the time
Striking exhaustion (more than expected) after physical or mental effort
Sleep without being rested
Feeling of fever, but without measurable abnormal temperature
Impaired memory and concentration (Cognitive difficulty)
Sore throat and sore lymph nodes
Increased sensitivity to light, smell and sound
Numbness
Diagnosis
Diagnose based on symptoms and exclusion of other illnesses. Frequently, diagnostic criteria are used. There are several editions. Current (1994, Fukuda) criteria here
Occurrence
Prevalence: 0,2 - 0,4% among adults, which corresponds to 10-20.000 people in Norway. Most women. Less common in children. Incidence (new cases annually per 100.000 inhabitants) in Norway (The Norwegian Institute of Public Health) is estimated at 39,4 / 100.000 among women and 12,9 / 100.000 among men. The disease is most common in the age groups 10 -19 years and 30 -39 years.
Differential Diagnoses (a selection)
Other conditions that can explain a similar kind of exhaustion must be excluded.
Dementia
Cancer
Drug Side Effects
Overweight (significant)
Schizophrenia
Sjögren's syndrome syndrom
Eating Disorders
Metabolism too low (hypothyroidism)
Virus Infections

Borna disease virus
Coxackie B virus
Entero-virus
Hepatitis (all types)
Human herpes virus type 6 (HHV-6)
Retrovirus
Ross river virus (not in Norway)
Treatment
Early mobilization with custom, graduated activity management / graduated rehabilitation without overstimulation
Resting all day is not recommended. Resting in bed for more than 4 weeks can cause immunological disorders

If accompanying depression is present, it should be treated
Cognitive behavioral therapy for mobilization and better quality of life is recommended
Learning of coping strategies can be important
Customized stretching for muscles and joints combined with careful exercise or activity program is useful
The immunosuppressive biological drug rituximab (Rixathon / MabThera) did not show definite effect in a Norwegian study (preliminary results, 2017)
Medical prognosis
Good study data is missing.
Among adults, it is stated that 20 - 50% get better within 1-3 years.
Among children, improvement is seen in 54 - 94% after 6 years (reference: Joyce J, 1997)
Pregnancy by ME
One study suggests that worsening, unchanged and improved condition are about as common during a pregnancy.
There do not appear to be any more pregnancy-related complications than expected from the population otherwise (reference: Typical RS, 2004)
Specialist in Health Region South East
Oslo University Hospital at the ME / CFS Center has an interdisciplinary offer for adults (over 18 years) with Myalgic Encephalopathy (ME) / Chronic Fatigue Syndrome (CFS). The outpatient service covers the Health Region South-East in Norway. The admission to the ward is nationwide.
Literature
---
This page has had 4 visits today