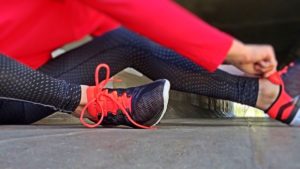 Definition
For patients with Rheumatoid arthritis , Systemic lupus (SLE) or similar chronic inflammatory joint diseases, combinations of physiotherapy, physical exercise, cognitive methods, diet and patient education are used. The rehabilitation team can consist of a rheumatologist, physical medicine, occupational therapist, physiotherapist, social worker, nurse, nutritionist, psychologist and rheumatologist. It has been shown that patients have the effect of rehabilitation, but the effect disappears after a few months (reference: Unfortunate T, 2016).
Good drugs for rheumatic diseases more often prevent the major physical injuries and limitations that were common in the past. Nevertheless, both rheumatic diseases and treatment can lead to complications. Chronic rheumatic disease still affects quality of life, mental surplus and lifestyle. Some will therefore need both physical training and help with cognitive and emotional mental coping (reference: Strain T, 2008). Both early in the onset of the disease and in the case of long-term illness, help from several occupational groups may be relevant (multidisciplinary rehabilitation). This must be seen as part of the anti-rheumatic treatment (reference: Wade D, 2015). During rehabilitation, social and health services can help to regain a lot of physical, cognitive and social functioning that has been lost due to illness or injury. A flexible collaboration where different competencies are coordinated to achieve a common goal is central. The user perspective is important and presupposes that the user participates actively in formulating goals for the rehabilitation, and is involved in deciding which measures are chosen.
Training institutions. Exercise and rehabilitation in rheumatic disease such as chronic arthritis (arthritis), Osteoarthrtitis, systemic connective tissue disease, Vasculitis or another chronic, rheumatic disease, may be relevant at a rehab facility.
The content of training and rehabilitation of rheumatic disease
Information about the disease and treatment measures from doctors, nurses and other health professionals
Physical training supervised by a physiotherapist / training therapist
Aids to function better adapted by an occupational therapist
Social consequences of the disease assessed by a sociologist
Mental coping and help with chronic illness with help from a psychologist, doctor and others.
Training in rheumatic disease in hot climates
Rehabilitation in hot climates applies to children, adolescents and with some (definite) diagnoses
Applications for treatment stays in hot climates are sent by a doctor (most often the GP) Treatment trips at Oslo University Hospital. Remember to read the terms carefully.
Rehabilitation and training of rheumatic disease in Norway
Rehabilitation at a rehabilitation institution in Norway is relevant for all chronic, rheumatic diseases when the need arises. A stay often involves a stay with overnight stays, tuition, treatments and meals over about three weeks. Applications for treatment stays in Norway are most often sent by the GP and preferably to a rehabilitation institution within their own health region.
More information about rehabilitation institutions

here:

There are many training institutions, but not everyone is relevant to your illness. Localization within your health region is the most common.
A selection of training institutions in Norway
Content of the applications for rehabilitation
Safe (documented) diagnosis and what the diagnosis is based on
Attachments, such as a report from previous stays, epicrisis from specialist or hospital if available
Other treatment measures that have been tried
How is the state of health physical (current and other diseases) and mental (is training advisable?). Attach result of current surveys (X-ray, CT, MRI and others)
What is the purpose of your stay, for example:

Increase the ability to cope with the disease and its consequences better
Information and pain management
Help get over a bad disease period
Regaining the function after a complication
Physical training under the necessary guidance
---
This page has had 2 visits today