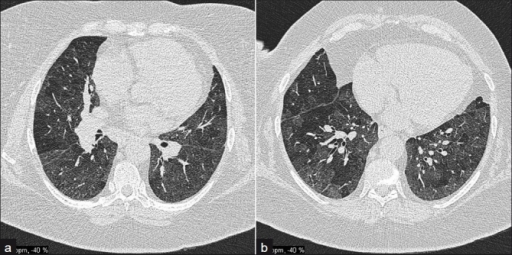 RA associated lung disease, rheumatoid lung disease

Definition
Lung manifestations are common in rheumatoid arthritis (RA, arthritis) and can occur in several different forms. Interstitial lung disease (ILD), pulmonary inflammation (pleuritis), rubbing nodules in the lungs and drug damage is elaborated on below. In general, the lung manifestation is unfortunately associated with increased morbidity and mortality. However, early treatment can have a good effect. It is therefore important to pay attention to the symptoms.
By Interstitial Lung Disease (ILD) more or less diffuse thickening occurs, most often in both lungs.
Pleuritis (pneumonia) causes accumulation of fluid, usually in one or both lungs
Rheumatoid nodules (rheumatoid noduli) are dense nodes of different sizes and the number that can be detected, usually in typical areas (please see below)
Also, some medications used for RA can damage the lungs
Occurrence
Overall, lung changes can be detected in 30-50% with RA, but few are serious (references: Gabbay E, 1997, Habib HM, 2011).
Men are attacked more often than women (as opposed to RA in general)
Smokers are most exposed
In most cases lung disease occurs after joint disease has been detected
Symptoms
Symptoms and examination findings vary and in some cases can lead to severe lung failure. However, most are without symptoms. About 5-10% have pulmonary symptoms (references: Bongartz T, 2010; Olson AL, 2011:
Cough without mucus (dry cough)
Breathing difficulties with physical strain
Symptoms from the lungs occur before joint disease in 10-20% of cases (reference Hyldgaard C, 2017)
Examinations
The investigation and follow-up of rheumatoid arthritis is best done when rheumatologists and lung physicians cooperate.
Medical history includes symptoms (see above) and predisposing factors, such as a-CCP positive Rheumatoid arthritis, male gender and smoking.
During clinical examination signs of lung disease are assessed by inspection and auscultation. A general examination of organs and joints is also carried out.
Blood tests includes routine as in rheumatoid arthritis. CCP antibody (ACPA) present in almost everyone and may be involved in the disease process itself.
Lung function including measurement of gas uptake is tested by lung eel (Lung function tests). Lung function tests (pulmonologist). One typically sees reduced gas uptake measured by DLCO.
Imaging. CT examination of the lungs/HRCT. A plain X-ray is not sufficient.
Interstitial lung disease (ILD)
ILD is the most common lung disease in rheumatoid arthritis. The proportion is about 45%, but symptoms are present in 10% (Reference Habib HM, 2011). There are several possible causes of the disease which include rRheumatic inflammation in the lung tissue itself, side effects of medication and infection must always be ruled out; both existing lung disease and rheumatoid arthritis increase the risk of infection. HRCT of the lungs is the most important examination, also in the early phase of the disease.
Lung biopsy can be decisive for the diagnosis and useful for estimating the prognosis, but can be avoided when symptoms and other findings are typical. Interstitial lung disease in other rheumatic diseases is described on a separate page here
Treatment of ILD in RA. In general, classical immunosuppressive anti-rheumatic drugs are used. These have a good effect in contrast to what is the case with Idiopathic Pulmonary Fibrosis (IPF) who are not expected to respond to immunosuppressive drugs. Corticosteroids (Prednisolone) is important, particularly in NSIP and organized pneumonia. Immunosuppressive anti-rheumatic drugs. Cyclophosphamide (Sendoxan), azathioprine (Imurel), mycophenolate (CellCept, Myfortic), methotrexate may cause ILD (please see below) but is not expected to worsen lung disease from another cause, TNF inhibitors is discussed as a possible trigger of ILD, but can also have an effect on ILD (see below).
Other measures is smoking cessation, treat if necessary gastro-oesophagus reflux with aspiration of acid into lungs. Vaccines against influenza and pneumococci, oOxygen if needed. Lung transplantation considered in special cases.
Prognosis at ILD and RA. ILD is expected to improve and stop during treatment, but is after heart disease the second most common cause of death in RA
Pleura manifestation at RA
Pulmonary (Pleura) is affected in most people with RA (up to 70% in autopsy studies), but only 3-5% have symptoms (pleurisy) (references: Balbir-Gurman A, XNUM, Corcoran JP, 2014). Most are men and over 35 years of age, many have rheumatic nodules under the skin, often at the same time. Unilateral pleural fluid most common. Fever and chest pain common, but cough is rare. Diagnostic and treatment-wise, draining of pleural fluid (pulmonologist) can be done. One expects sterile exudate (not transsudat). Findings in pleural fluid that can also fit with infection are PH is low PH (<7,3), low glucose, LD (lactate dehydrogenase) often increased. Tuberkulosis (Tbc) may yield similar findings. Pleura changes in other rheumatic diseases are described on a separate page here
Treatment of pleuritis at RA may be to intensify the anti-rheumatic treatment and drainage of pleural fluid
Other pulmonary manifestations
Asthmatic symptoms of bronchial hyperreactivity
Bronchiectasis. May be caused by chronic infection. Increased tendency to infection in RA
Follicular bronchiolitis. HRCT may show centrolobular preri-bronchial nodules that are less than 3 mm and have ramifications. Not "honeycombing"
Obliterative Broncholitis (BO). Acute onset, rapidly progressing dyspnoea, cough, severe prognosis, most often among women, positive CCP (ACPA), long-standing illness, sulfasalazine (Salazopyrin) can be a trigger

Detection by HRCT (not specific)

: Sentro-lobular emphysema, bronchiectasis, bronchial wall thickening, mosaic pattern
Pulmonary function tests (pulmonologist) show obstruction, normal DLCO
Treatment of BO by removing the triggering cause (if possible). The prognosis is serious

Revma nodules in the lungs

most often seen in long-term RA and a-CCP (ACPA) antibody. Many people also have cystic nodules under the skin. Increased incidence of rheumatic nodules during Methotrexate treatment. Typical locations in the lungs are interlobular septa (lung-lobe gaps) and subpleural areas (along the pleural membranes). Size from a few mm to several cm
Caplan syndrome (rheumatoid pneumoconiosis). May occur due to occupational exposure to coal, stone dust or asbestos.
Pulmonary hypertension. Most commonly secondary to lung disease (as distinct from systemic sclerosis)
blood clot/pulmonary embolism.
methotrexate (Methotrexate-lung). Acute or subacute hypersensitivity pneumonitis. Seen in 0,86-6,9% of treated patients (reference: Roubille C, 2014). Most often with relatively high doses of methotrexate. Most common within the first year of treatment Symptoms with heavy breathing, dry cough. Imaging with CT of the lungs. X-rays may be normal at first. CT or HRCT shows diffuse thickening or patchy changes.

Bronchial lavage (bronchial lavage, BAL), by a pulmonologist is done to rule out another cause (including infection). Tissue sample (biopsy) does not show necrotizing granulomas and scattered eosinophilic leukocytes.

Treatment of MTX lung

: Stop methotrexate. This usually has a clinical effect within a few days, but radiological changes (CT) can last for several weeks. Treatment with prednisolone can be used if slow spontaneous regression.

Leflunoid (Arava) lung

. Can trigger ILD in predisposed patients, most often among Asians

TNF inhibitors and pulmonary manifestation

. TNF inhibitors are suspected of triggering ILD, but debated. The drugs are also used in the treatment of lungs. Sarcoidosis-like changes are seen in lung tissue, organized pneumonia or worsening of existing lung disease. Unknown disease mechanism, may be conditional on the underlying disease, TNF inhibitors increase the incidence of infection and TNF inhibitor induced ILD has been reported in some individuals.
Literature
---
This page has had 2 visits today