Definition
Breast prostheses with silicone has been suspected of causing over approximately 30 years Systemic connective tissue diseases: or trigger the "Rheumatoid arthritis" (antibody), "Breast Implant Illness" ("silicone disease"). This has not gone unnoticed. In recent years, no other medical implant has been more thoroughly investigated than silicone-containing breast prostheses. There are now results from large studies with several ten years of follow-up. The results answer various questions about cosmetic breast prostheses with silicone although there is still disagreement in the medical community (see The ASIA syndrome).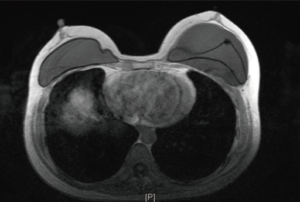 Several methodological good studies have been made and summaries for more diagnoses. These include (dermato) myositis, Systemic sclerosis, Sjögren's syndrome og Rheumatoid arthritis (RA).
The results may seem contradictory, but the most recent and most comprehensive data points in the direction of a probable connection between the implants and some diagnoses.
Research that found no connection. Two large studies did not demonstrate a connection between rheumatic disease and silicone prostheses: 1) Sanches-Guerrero J and coworkers published in 1995 in NEJM. Data from 87.501 nurses in the USA who were then healthy were followed up for an average of 9,9 years. Rheumatic connective tissue disease developed during this time in 516 of these. At the same time, 876 women in the study had received silicone breast prostheses. After calculating risk, the authors concluded that they did not demonstrate an association between silicone breast prostheses and rheumatic connective tissue disease. 2) Balk EM and co-workers published in 2016 in the Annals of Internal Medicine a review of 32's previously published studies on the long-term health outcomes of women with silicone breast implants. The author's conclusion, despite so many studies, was that it was not possible to conclude anything certain.
Research showing associations. 1) A large study from 2018 (24 with implants and 651 controls) showed that women with silicone breast implants are more likely to develop some autoimmune diseases, especially Sjögren's syndrome, Systemic sclerosis or Sarcoidosis (reference: Watad A, 2018). The disease risk was 1,5-2 times increased, but since these are rare diseases, the incidence remains low. The vast majority of people with silicone implants do not get autoimmune rheumatic disease. 2) An even larger study from the United States Food and Drug Administration large postapproval studies (LPAS), included data from 99,993 patients with breast implants. Silicone was used in 56% of the implants. When compared with normative data, silicone implants were associated with an increased incidence of Sjøgren's syndrome (Standard incidence ratio, SIR 8.14), Systemic sclerosis (SIR 7,00), rheumatoid arthritis (SIR5 96). In addition, an increased risk of stillbirths and melanoma was found (SIR 3,71). Only one case of the lymphoma type BI-ALCL was reported (Coroneos CJ, 2019).
One discusses whether silicone or the procedure itself is the cause. All physical (and mental) interventions can "trigger" the immune system. Theoretically, autoimmune systemic connective tissue diseases can thus flare up even if silicone itself is not the cause. Surgical interventions, including silicone prosthesis insertion, can thus theoretically trigger or worsen the condition. Good studies with control groups (implants without silicone) are lacking, so that no clarification is required.
Leakage from silicone prostheses (cracked breast prostheses). The studies show that the incidence of connective tissue diseases did not differ from those who did not have damaged silicone breast prostheses. This despite the fact that the manufacturer Dow Corning had to pay huge amounts of compensation, which led to bankruptcy. However, traces of silicone have been found in the liver, which can be a potential health problem in itself. Prostheses are now made so that they last better, and leakage of silicone is less frequent (reference: Baek WY, 2014).
Antibodies in ball tests after insertion of silicone prostheses. One has tested blood for, among other things ANA, rheumatoid factors, cardiolipin antibody and silicate antibody in various studies without connections being found.
Removal of silicone implants. There is little systemic data available, but a summary publication shows that a large proportion of patients who developed inflammatory rheumatic disease after silicone implants have less rheumatic problems after their removal (reference:Tervaert, C, 2017).
The ASIA syndrome. Autoimmune/inflammatory syndrome induced by adjuvants (ASIA). Since 2011, more than 4000 cases have been published in which it is assumed that immune-related autoimmune diseases have been triggered by adjuvants in vaccines, other additives and implants in genetically predisposed individuals (references: Shoenfeldt Y, 2011; Borba V, 2020). Rheumatic disease with silicone breast implants can be perceived as a classic example of the ASIA syndrome. One assumes a pathogenesis where an external, foreign agent causes chronic hyperstimulation of the immune system, antibody production and subsequent autoimmune diseases. The most common diagnoses are Sarcoidosis, Sjögren's syndrome, undifferentiated systemic connective tissue disease og lymphoma/lymphatic cancer (reference: Borba V, 2020). However, it is worth noting that there is far from consensus in the professional rheumatology / immunology community about this concept. The relationships described have been criticized from the very beginning and are perceived as unsafe parts of the professional environment (Cervera R, 2011).
Breast implant illness / «Breast Implant Illness» is not well defined and includes symptoms such as fatigue, joint and muscle pain, feeling of dryness to the mucous membranes. Knowledge summary has concluded that there is no reliable evidence for a relationship to silicone-containing breast prostheses (references: Tervaert, C, 2017; Kaplan J, 2021).
Fibromyalgia. Large studies show no increased incidence of fibromyalgia after silicone prostheses, but intensified pain related to the procedure can be expected.
Cancer. Recent data indicate that a rare type of cancer, anaplastic large cell lymphoma (BIA-ALCL), occurs more frequently after implanted silicone breasts. The complication still affects very few. The median time before the cancer was detected was 9 years (reference: Berlin E, 2018).
restylane and other fillers. Restylane is more similar to the body's own substances than silicone, but reactions and side effects are still not entirely rare (reference: Lafaille P, 2010). There is a warning against such cosmetic interventions if you have an active systemic connective tissue disease (Lupus, MCTD, Myositis, Sjøgrens, systemic sclerosis), vasculitis disease or other active autoimmune disease (reference: Boulle, 2015).
Summary
Until 2004, all but one study concluded that there was no association between breast implants and systemic connective tissue diseases. Newer and more extensive data suggest a connection between implants and Sjøgren's syndrome, systemic sclerosis, rheumatoid arthritis and sarcoidosis. Considering that the incidence of the disease is low, also among those implanted, breast prostheses are generally not recommended.
One cannot rule out that silicone implants will increase the risk of activating an already existing autoimmune disease or cause more pain in fibromyalgia. Caution is recommended if you have a rheumatic disease or if you have a known predisposition to autoimmune diseases. The indication for must be weighed against the potential risk of increased complaints from an existing rheumatic disease.
Literature
---
This page has had 1 visits today