Definition
Sclerotic edema is a rare condition of unknown cause, but often associated with it d, Streptococcal infection (in the throat) or changes in the blood in the form of Monoclonal gammopathy. Huden blir hard og stram i typiske områder på overkropp og nakke, men ikke i hender. Sykdomsmekanismene er ikke godt klarlagt. Sklerødem klassifiseres som en scleroderma-like disease, but is not counted among them inflammatory systemic connective tissue diseases. However, the symptoms mean that the rheumatologist should know the condition and the closest differential diagnoses. The disease was first described by Curizo in 1752 and further defined by Abraham Buschke in 1902.
Occurrence
Scleral edema is defined as one rare disease, but the exact occurrence is unknown. The disease most commonly occurs in middle-aged, overweight people with diabetes.
Symptoms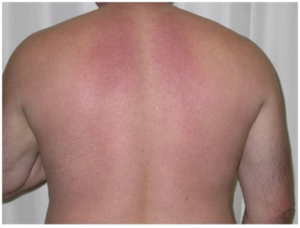 Gradually the skin and subcutaneous tissue become hard, especially over the neck and back. The front of the chest can also be attacked, but usually not arms and legs.
Based on classification according to Graff in 1968, scleroedema can be divided into three groups
Examinations
Medical history dekker symptomer og etterspør disponerende tilstander (se ovenfor). Raynauds fenomen er uvanlig.
Clinical skin changes are assessed, especially on the upper body and neck. Changes in hands are not expected.
Blood tests: Ingen spesielle utslag forventes, men CK (kreatin kinase fra muskler) er pfte forhøyet. Fastende blodsukker, anti-streptolysin (AST) og elektroforese for å påvise eventuelle assosierte sykdommer. ANA (antistoff) og leukocytter med differensial-telling (eosinofile) undersøkes for å vurdere differensialdiagnoser (Systemic sclerosis, Eosinophil fasciitis).
Tissue sample is not needed to confirm the diagnosis, but can rule out other scleroderma conditions. Marked thickening of collagen bundles separated by prominent clear, mucin-filled spaces is typical. Subcutaneous fat shows invasion of thickened collagen fibers. No pathology in the epidermis, sweat or sebaceous glands is expected. Mucin depots that can be stained with Alcian blue or toluidine are most often available (reference: Naschel j, 2012).
Diagnosis
The disease picture with hard skin, medical history with a predisposition to disease (diabetes, infection or Monoclonal gammopathy).
Similar conditions, differential diagnoses
Treatment
If predisposing diseases are present, these must be treated as best as possible. If significant stiffness, physiotherapy may be useful to counteract more stiffness (reference: Mickel M, 2017). Light therapy with UVA1 can be tried (reference: Knobler R, 2017), methotrexate or immunoglobulins (IVIG) are tested in some individuals (reference: Eastham AB, 2014).
Prognosis
Spontaneous recovery is common, but the condition often lasts for several years. It is unusual for internal organs to be attacked. Infection-related (streptococcal) type 1 has the best prognosis (reference: Kreuter A, 2018).
Literature
---
This page has had 1 visits today