Definition
Stiff person syndrome is a serious, rare, neurological disease with increasing stiffness and spasms, particularly in the back muscles. The disease that was originally called "Stiff Man Syndrome" is often related to glutamate acid decarboxylase (GAD) antibody which can be measured in the blood (reference: Solimna M, 1988). Some of the symptoms may initially resemble rheumatic disease.
Occurrence
Stiff person syndrome is defined as one rare disease. In Great Britain, the prevalence is estimated at 1-2 per million inhabitants (reference: Hadawi S, 2011), which corresponds to 5-10 cases in Norway. Women are attacked twice as often as men and the age group 29-59 (median 42 years) years is most vulnerable.
Disease Causes
Autoimmune type:

Often at the same time as another Autoimmune disease. Antibody against GAD65 (glutamate decarboxylase 65kD isotype). Makes up 60% of all cases. GAD65 antibody is detected in the blood also in Autoimmune epilepsy, including Limbic encephalitis which may be related to cancer (paraneoplastic, please see below).
P

araneplastic type

: Associated with various cancers (neoplasms). Different, non-specific Antibodies.

Idiopathic type

(unknown cause of disease): No typical antibody or cancer. Makes up about 35% of the cases
Symptoms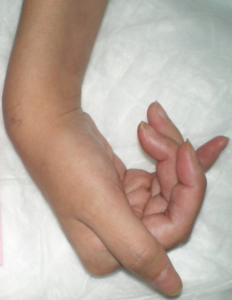 The disease develops gradually. Eventually, the symptoms can become dramatic. Alternating pain and tension in the neck, back and abdominal muscles are typical. Muscle tension spreads. In some cases, reduced ability to stretch the fingers can also be an early symptom. Pain that becomes chronic and increases over time.
During the course, the back and stomach muscles tense up, become stiff and one experiences episodes of severe cramps.
Increasing sensitivity when exposed to unexpected physical activity and loud noises (convulsions). The spinal column becomes increasingly misaligned with stretching (hyperlordosis).
Muscle rigidity causes the body to become stiff, first periodically over days-weeks, later more persistent
Problems with walking and tiptoe position: "bizarre walking"
A variant of the disease mainly attacks the legs
About. 25% also have type I diabetes
Examinations
Medical history maps current disease development and symptoms (see above).
Clinical examination can demonstrate hard and tight muscles, visible contractions (contractions) in the muscles, stretching of the back and neck (hyperlordose), arms and legs become stiff and are in a stretched position (pointed feet). Movements are stiff "like a tin soldier".
Blood tests. Routinely, one can examine CRP, SR, hgb, leukocytes with differential count, platelets, liver, kidney and thyroid function tests, electrolytes, creatine kinase (CK), blood sugar, ANA, anti-GAD65, other autoimmune encephalitis-related antibody. Blood lowering reaction (SR), CRP, Creatine kinase (CK), ANA, ANCA are normal. GAD65 antibody: Material: serum Volume: 0,5 ml. In Norway, analyzes (serum and spinal fluid) are carried out at Oslo University Hospital, Section for Medical Immunology, Ullevål Hospital and Haukeland Hospital.
Electromyography (EMG). Simultaneous agonist + antagonist activation that responds to diazepam, otherwise normal result.
Image diagnostics. MRI examination of the cerebrum and spine: No special findings.
Spinal Fluid. Antibody against GAD65 can be detected, otherwise normal.
Diagnosis
A clinical examination reveals obvious stiffness and rigidity in the back, neck and abdominal muscles. Slowly increasing symptoms over time that result in permanently reduced movement. Striking posture with a stretched back (hyperlordosis). Cramps are triggered by unexpected movement, contact, sound or emotional imbalance. Normal feeling/sensitivity. Normal intellect. EMG with activated muscle activity and response to diazepam/Valium. Antibody against GAD65 (glutamate decarboxylase 65kD isotype) in 60%.
Similar conditions / differential diagnoses
Treatment
Diazepam (Valium, Vival) has a strikingly good effect on the symptoms. Immunosuppressant medication with Prednisone, SoluMedrol, Azathioprine, IVIG (immunoglobulin) and rituximab/MabThera.
Prognosis
Variable disease course, but often increasing symptoms over time. Any connection with cancer and type I diabetes must be followed up.
Literature
---
This page has had 5 visits today