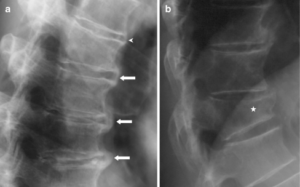 Definition
Diffuse idiopathic skeletal hyperostosis (DISH, Forestier's disease) causes chronic stiffness in the back, especially in the vertebral column (thoracic column) in people from 50-60 years of age. X-ray or CT examinations show bridging calcifications between several vertebrae and over the intervertebral discs.
Lumbar spine (lumbar spine) and neck (cervical spine) can also be attacked in addition to the tendon attachments for Achilles tendons, kneecaps, hips, elbows and shoulders. However, not everyone has pain or other symptoms. DISH is separated Ankylosing spondylitis, spondylosis, other back problems and sciatica.
Disease Cause
It has been investigated, but not found, that hard physical work, intake of a lot of calcium, other dietary factors or hereditary conditions are decisive for the development of the disease. The cause of the disease is thus unknown (reference: Mader R, 2013).
Occurrence
DISH is detected with increasing age and is rarely before 40 years of age. At the age of 70, however, DISH occurs in as many as 5-10%, most often among men (reference Kiss C, O'Neil TW)
Symptoms
DISH is first felt as stiffness and pain in the back, mostly in the morning. Symptoms from the thoracic spine are located between the shoulder blade and down towards the lower back. The incidence of pain varies. Some bother little, so that the changes in the back are detected randomly. Others notice a feeling of tightness in the throat and swallowing problems because large calcifications in the cervical spine can press against the esophagus (reference: Verlaan JJ, 2013).
Diagnosis
The medical history asks for current symptoms and excludes signs of inflammation and "red flags" in back pain. Clinically, the back is also examined for similar conditions. Normal blood parameters are of little diagnostic use. The diagnosis is based on X-ray findings. No association with HLA-B27.
The diagnosis is made using X-rays or CT examinations as well as clinical assessment showing reduced mobility in the back.
Most typical of X-rays are ossification between four or more consecutive vertebrae in the thoracic spine, neck or lower back.
Most often, the connective tissue is in front of the vertebrae and the intervertebral discs (anterior ligament) calcified, while the intervertebral discs are usually normal otherwise. Calcifications behind vertebrae (posterior ligament) also occur. Inflammation of the iliosacral joints is not detected as in wood Bekhterev's disease (ankylosing spondylitis) and internal organs are not damaged.
Diagnostic imaging can also show calcification in the late festivals Achilles Ener, kneecap, hips, elbows and shoulders.
Classification criteria (Utsinger- criteria, Reference: Outputs PD, 1985)
Continuous calcification along the anterior part of the vertebrae and intervertebral discs, preferably in the thoracic vertebral column. The calcifications begin as narrow bands, but usually develop into broad, uneven thicknesses.
Continuous calcification along the front of at least two consecutive vertebrae
Sidelik (symmetrical) calcifications / ossifications in the tendon attachments behind the heel (Achilles tendon), at kneecaps or elbows.
Exclusion: Abnormally low intervertebral discs, calcifications based on joints (apophysic joints) that cause rigidity
Interpretation of the criteria: Point 1: Safe DISH. Point 2 + 3: possible DISH
Treatment
The treatment is aimed at any symptoms. As with lumbago, the measures consist of adapted physical activity and exercises. Mild painkillers such as paracetamol or NSAIDs can be soothing. In the event of obesity, poorly regulated diabetes or metabolic syndrome, measures are also directed against these. Surgery may be appropriate for severe neck manifestations or unstable back fractures.
Prognosis
The prognosis is generally good, but increasing stiffness over time leads to reduced physical function. Those who are most severely affected are exposed to fractures in the back due to injuries.
Literature
---
This page has had 1 visits today